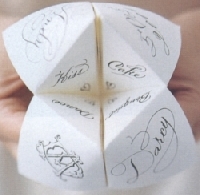 I swap with Swap-bot!
I called these things fortune tellers, if they got called anything at all. There are lots of things in life that I don't have words for. Like these. It's a Cootie Catcher Swap. I honestly didn't know what it was for until I clicked on the swap because I didn't call them anything most of the time.
So mine is fun and exciting. I hope so, at least. It was totally fun to make. Flickr pictures tomorrow.